Best selling headset lists are assembled to help users gain from the experience of others.  Typically when a company purchases headsets, they are simply adding to their existing supply.  The larger the company the more testing they've done.  So small companies and first-time purchasers now have a way to gain insight as to what others already trust.  The below best-selling headsets of Q4 2019 are the top sellers you can consider as solid business-grade headset options.
The following best selling headsets were generated from sales recorded quarter four of 2019: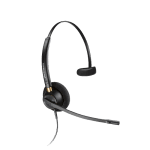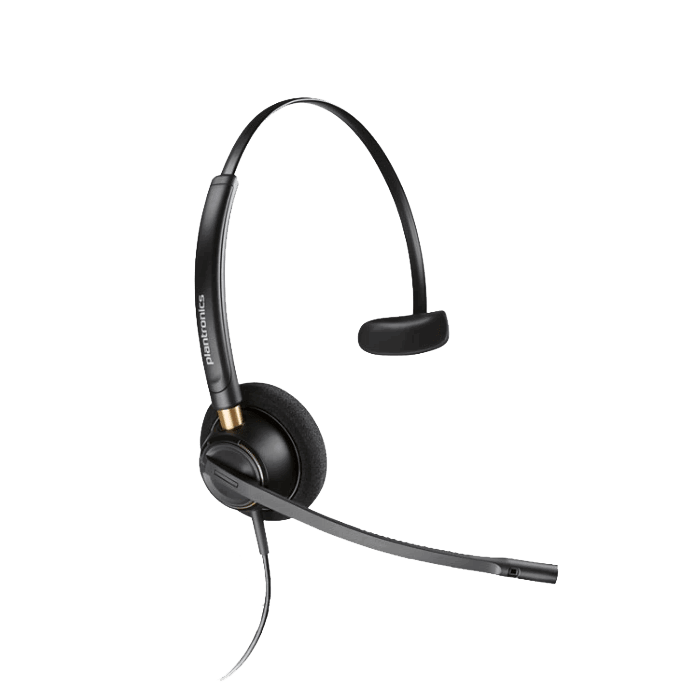 1) Plantronics HW510 Corded Headset: There are many excellent reasons why EncorePro
HW510 Corded Headset was in the number 1 slot for sales. With the right cable adapter,
you can use the headsets with a desk phone, PC, or cell phone. The HW510 is an
extremely durable and comfortable headset. If you are in a louder work area, the single
earpad covers your ear well to help cut down on surrounding sounds, so you can hear
your caller well. The foam cushion is soft against your ear and the adjustable headband
keeps your headset placement exactly where you want it. Another plus is the bendable
noise-canceling microphone boom, so you'll always sound your best in all your conversations. You'll need to
also have a bottom cable or amplifier with this headset, so give us a call and we'll gladly assist you with finding
the correct one for your needs.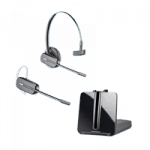 2) Plantronics CS540 Wireless Headset: Our customers that use this wireless headset for
desk phones love that it gives them two wearing choices included in the box. The fact
that it is feather-light with either wearing style is also a huge plus. It gives them crystal
clear sound and the noise-canceling microphone picks up their voice perfectly. You can
roam up to 350 ft while you are on a call. You can add an optional Handset Lifter or EHS
Cable and stay even more productive by picking up calls and hanging up calls remotely,
just using the headset! It's a game-changer for busy desks. Let us know what phone
model you use and we can check compatibility for you.

3) Plantronics HW520 Corded Headset: The HW520 is the dual-ear version of the HW510.
The difference being that with both your ears covered, it greatly allows you to focus on
your caller without straining to hear or having to ask your caller to repeat themselves. It's
perfect for large open work areas or call centers. The headset has a noise-canceling
microphone you can bend to find the best placement by your mouth. It's light and
comfortable and gives you great sound quality. Be sure to get the bottom cable or
amplifier too. We can help you choose the right one for your phone or PC.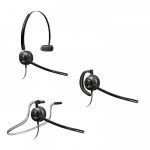 4) Plantronics HW540 Corded Headset: This is a favorite with customers because of the
three wearing styles that come in the box with it. It's great for folks that haven't used a
headset before; gives them a chance to try the over the ear style or perhaps the single
ear cushion with headband and there is the behind the neck style as well. It's very
lightweight and easy to change styles. The speakers and noise canceling microphone
offer great sound and paired with the compatible bottom cable or amplifier you'll be set!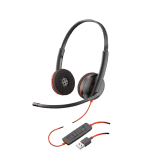 5) Plantronics Blackwire C3220 Corded USB Headset: This headset is an incredible value
for users that are looking for an economical corded USB headset. This headset has dual
ear cushions that are soft foam and offers a long noise-canceling microphone that will
pick up your voice well. The dual-ear pads assure that you'll hear your caller, even in
louder environments. This headset doesn't skimp on features like In-Line Controls right
on the cable, so you'll be able to pick up calls and hang up calls, mute calls or videos
and adjust your volume without having to use your PC's mouse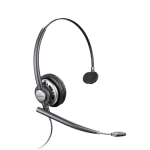 6) Plantronics HW710 Corded Headset: Luxuriant comfort and incredible sound quality are
what you will get with the HW710 EncorePro Single Ear Corded Headset. If you are
using a headset most of your day, you will want to reach for this headset. It is built for
comfort with a thick, well-padded leatherette ear cushion, as well as the headband, feeling
soft against your head. The microphone telescopes in and out so you can find the right
placement close to your mouth and the speaker will give you crystal clear sound so you'll
catch every word.

7) Jabra Evolve 30 II UC Mono USB/3.5mm Headset: Jabra makes many great products
and this corded headset is one of them. The lower price point is a terrific value. It's great
that one headset allows you to use it with your everyday communication devices, like
your smartphone and USB laptop or PC. When using it with the USB connection you'll
be able to enjoy the In-Line Control features on the cable without having to use your
mouse – it will save you time and keep you productive. The leatherette cushion is so soft
against your ear and the sound is rich and clear.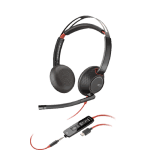 8) Plantronics Blackwire C5220 Corded USB Headset: The C5220 Corded USB Headset is ideal for
noisy environments. This dual ear headset does a fantastic job of cutting down on
surrounding noise as well as give you crisp, clear sound – so the days of asking your
caller to repeat themselves is a thing of the past. You can use it with your 3.5mm
devices, as well as your USB connections and the In-Line Controls, give you faster
response control for your PC softphone. It's also a plus that the headset is attractively
styled and comfortable for those long days you put in.

9) Plantronics CS540-XD Wireless Headset: If you have a few dozen headsets in the same
area and need wireless headsets to work with your phones the CS540-XD is an
excellent choice. Because the XD works off a different frequency than the standard
version – it enables you to have up to 100 headsets in an area, without worries of
interference. CS540-XD also includes two wearing styles so you'll find the best fit for
you. You'll have clear conversations while being able to roam up to 350 ft. Be sure to
add on a Handset Lifter or EHS cable (please contact us for assistance with phone
compatibility) and you can answer calls and hang up calls remotely just using the
headset!

10) Jabra Biz 2400 II USB Mono 3-in-1 Headset: If you want a superb USB headset, the
Jabra Biz 2400 II USB Mono 3-in-1 Headset is the premium headset to go with. The
comfort level of this headset is amazing. No matter which of the 3 wearing styles you go
with, you'll feel pampered by the butter-soft ear cushion and attachments that come with
it. The Hi-Fi sound with HD voice technology will amaze you and your caller and will feel
like you're right there in the room with them; the sound is so crisp. With the In-Line
Controls you'll be able to respond quickly to incoming calls, adjust your volume or mute
your calls without having to use the mouse each time.
Conclusions of our best selling headsets list for Q4-2019
Use our list of best selling headsets as a guide to learn what others are currently purchasing. This also is a great starting point to what headsets to consider.  With so many manufacturers and models to choose from, it can quickly become overwhelming.  Above all, we're always available to offer advise. Our staff of certified headset experts strive to find the right headset for your personal needs and work environment with your initial purchase.