End of Life (EoL) Notice: Plantronics CS510
Plantronics has announced that the CS510, CS520, and CS530 products are going end of life. The last order date will be May 15, 2020 and the last ship date will be July 15, 2020 or while supplies last. For replacement products, see info below.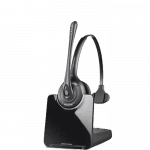 Discontinued: 84691-01 Plantronics CS510 Monaural Wireless Headset
Replacement: Poly Savi 7210 Office, S7210 D, Monaural Wireless Headset (213010-01)
---
Hands-Free Productivity with Savi 7210
Here's how to hand everyone in the office more flexibility. With the Savi 7210 wireless headset you have a roaming range of up to 120 m/ 400 ft from the headset base. Give workers more confidence, with up to 12 hours of talk time after each charge. Collaboration is simpler, too, since teams can conference up to four headsets on a single base.
Effortless Company-Wide Deployment
Set the scene for convenient enterprise-wide deployment – and keeping everyone comfortable. Stylish, over-the-head mono or binaural options make it possible. One adjustable headband is perfect for all head sizes. User get a flexible microphone boom – and DECT™ adaptive power that automatically adjusts signal strength to save power too.
Integration Made Easier
Savi 7200 Office Series headsets are compatible with the wide range of phones Poly offers. Plus, you and your teams can count on easy, instant integration with over 800 analog and IP desk phones from the industry's leading makers. Say hello to your one-stop shopping solution for headsets and desk phones.
---
Product Sheet: Plantronics CS500 series