1) HW251 SupraPlus – When the world's most popular headset was refreshed, nothing was sacrificed.  With all the great features you've com to expect from Plantronics' flagship headset, after 50 years, the HW251 continues to set the standard in quality, sound, and styling.

2) HW251N SupraPlus – Our most popular Plantronics corded headset.  From the busy call center to the small one-man office, the HW251N continues to be the gold standard among headsets.  Style, performance, and durability make this headset #1 among today's professionals.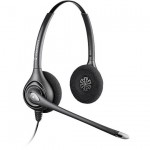 3) HW261N SupraPlus – For better hearing in a noisy environment, the HW261N is the choice for you.  It not only provides the patented noise-canceling microphone from Plantronics, but with two speakers to cover your ears, you'll always be able to hear your callers loud and clear.

4) H141N DuoSet – A quality entry-level commercial-grade headset, the H141N Duoset is just right for the cost conscious business person.  It offers two wearing styles, and the noise-canceling microphone drowns out unwanted noise around you.  You don't need to sacrifice quality for price.

5) HW710N EncorePro – Don't think that the newly reworked version of the Encore brand can't stand up to the rigors of a busy office.  Carrying on in the fine tradition of its predecessors, the HW710N offers the highest quality discerning users have come to expect in a high-end headset, and it's just right for today's new phones.
---
If you're deciding between corded models of headsets, it never hurts to see what the top five corded headsets from Plantronics are, because chances are other customers have purchased corded headsets and found what they liked and continue to purchase them. With the models listed above, they're all top of the line business grade/professional grade corded headsets made by Plantronics that are durable, comfortable and built to last. Choosing any will increase your productivity by allowing you to be hands free while talking on the phone. Once you try a corded headset, you will find it hard to be without.