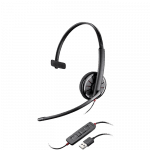 1) Blackwire C310 – The CS310 is a simple and durable choice for conference calls, web-based training, and PC multimedia applications.  Inline controls make it simple to answer and end PC calls, as well as control volume.

2) .Audio DSP-400 USB – This headset has digitally-enhanced full-range stereo sound and a noise-canceling microphone.  The microphone can easily be adjusted to your preference; it is lightweight and foldable for easy storage — (not compatible with Microsoft Windows 7).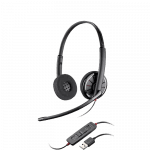 3) Blackwire C320 – The C320 is the best-featured headset you never thought your budget could afford.  The unique Dynamic EQ feature optimizes sound quality and adjusts settings on the fly, creating outstanding sound for voice, music, and multimedia.

4) .Audio 628 (81960-11) – Answer and end Skype calls right from the headset.  This headset is loaded with features such as a noise-canceling microphone, rich HD sound, and Digital Signal Processing which removes static and kills echo.

5) .Audio 355 (79730-01) –  This lightweight and durable headset has swivel-mounted ear cushions that have excellent stereo sound.  Not only does the 40mm stereo speakers make you feel like you are there at the concert, but are comfortable on your ears for hours.  The microphone has noise-canceling  features and can rotate easily out of the way when not in use.
---
If you're deciding between computer headset models, it never hurts to see what the best 5 computer headsets from Plantronics are, because chances are other customers have purchased computer headsets and found what they liked and continue to buy. Choosing any will provide a great headset to use with your desktop or laptop computer.