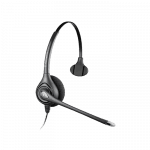 1) HW251N – The flagship of Plantronics' corded headsets, it sports a noise-canceling microphone that is second to none.  It really does the job!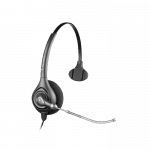 2) HW251 – The surprising rich sound that comes through the speakers will have you wondering why you hadn't purchased this headset before.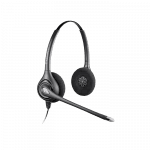 3) HW261N – The binaural feature of this headset will allow you to concentrate when you get calls, and the noise-canceling microphone works as if you were talking all by yourself.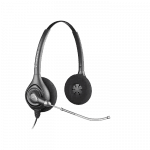 4) HW261 – Even in a quiet office it's nice to have a binaural headset that can assist us hard-to-hear folks.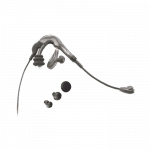 5) H81N – This over-the-ear model is a professional grade headset that tops the charts in comfort and quality.  With an ear bud design for added stability and a noise-canceling microphone that can stand up to the rigors of a noisy call center, you've got a winner with the H81N TriStar.
---
If you're deciding between corded models of headsets, it never hurts to see what the best 5 corded headsets from Plantronics are, because chances are other customers have purchased corded headsets and found what they liked and continue to purchase them. With the models listed above, they're all top of the line business grade/professional grade corded headsets made by Plantronics that are durable, comfortable and built to last. Choosing any will increase your productivity by allowing you to be hands free while talking on the phone. Once you try a corded headset, you will find it hard to be without.