1) .Audio DSP-400 – Aside from the DSP feature that allows for greater clarity of voice, I like the fact that you can fold the .Audio DSP 400 and take it with you anywhere you go.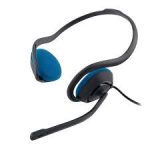 2) .Audio 646 DSP – – I like the fact that it goes behind the neck and doesn't mess up your hair. It sounds pretty good too.

3) Blackwire C610 – Finally a monaural professional grade headset for my computer. It allows me to keep an ear free for my colleagues.

4) .Audio 626 DSP –  Built-in digital signal processor, digital equalizer for better stereo, noise canceling microphone and soft, comfortable ear cushions, all in a price conscious USB headset, now that's a bargain.

5).Audio 326 – I like the fact that while I'm saving money, this headset doesn't scrimp on quality and features.
---
If your deciding between computer headset models, it never hurts to see what the most popular models are, because chances are other customers have purchased computer headsets and found what they liked and continue to buy. Choosing any will provide a great headset to use with your desktop or laptop computer.