With "wireless freedom" the current buzz words in telephone communication, are there any just plain Plantronics cordless phone headsets that can be attached to cordless phones, like my V-Tech®?
You could say they are becoming rare as hen's teeth (and you know how rare they are), but there are some available. Plantronics is still committed to supplying the consumer with quality products in this field, even if it is a little older technology. So, what is available? A quality and affordable headset is the M175C.
Being a convertible, it affords you the option of using a headband or ear loop to support the mouthpiece on your head. It comes with a noise canceling microphone (to cover for the occasional child running through the house), a mute button (in case you need to have a private word with another person) and volume controls to maximize your listening pleasure. The soft leatherette ear cushion allows for all-day wear.
For an under-the-ear Plantronics cordless phone headset, with flexgrip for a secure comfortable fit, try the MX500C. Like the M175C, it has a mute button and volume controls so that you can hear your callers right the first time. But that's not all. It features a microphone volume switch and the innovative WindSmart™ voice tubes which combine patent pending wind noise reduction technology with interchangeable, pivoting voice tubes so that you're heard clearly the first time, every time, even in windy environments.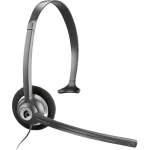 Now, if you don't care about all that extra "fluff" for your Plantronics cordless phone headset, try the M210C. You'll also enjoy clear, noise-free conversations while multi-tasking as this headband-style headset frees up your hands to do…just about anything. The microphone adjust switch optimizes sound, so your callers will hear conversations clearly, without background noise. And the M210C, like all their other cordless phone headsets, is backed by the Plantronics full one year warranty. Add our 60 day money back guarantee and top rated customer service from Headsets Direct and you can buy with confidence. Call us today at 800-914-7996 or check us out on line at www.headsetsdirect.com.