VoIP Manager Review by Hendrik O

It is a good and simple product
Headsets Direct On-Line Indicator has been discontinued.

09296-32 - On-Line Indicator - HDI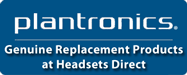 ---
How often has a co-worker interrupted your phone conversation because they weren't aware you were on the phone? Whether you wear a corded headset, or a wireless headset, we have the perfect solution for your dilemma! Our Universal On-line Indicator is compatible with both corded and wireless headsets. It easily attaches to the top of your cubical, the front of your desk, the top of your monitor, or any hard surface that is clearly visible to co-workers. When you are on your phone, the light (which can be seen from any direction) will automatically turn on to indicate that you can't be disturbed. The Universal On-line Indicator comes equipped with a 6 foot cord; providing ample flexibility for perfect optimal visual placement. Also included is a headset hook, offering a convenient and safe place to store your headset when it's not in use. Imagine never having to deal with inadvertent interruptions from co-workers when you are in the middle of a conversation! The Universal On-line Indicator is the perfect accessory for today's high technology office environment.
Additional Information
| | |
| --- | --- |
| Inventory at start of day | 0 |
| Compatibility | No |
| Talk Time | No |
| Stand By Time | No |
| Roam Distance | No |
| Headset Style | No |
| Headset Weight | No |
| Part # | No |
| Brand | Plantronics |
| UPC | No |
| Helpful Links | No |
| MSRP | No |
We Make Your Life Easy!

• Plantronics Certified Headset Experts Since 1996
• 30-Day Money Back Guarantee
• Talk To A Real Person
• Guaranteed Latest Date Codes & Fresh Batteries
• Discounted Pricing
• Same Day Shipping On Most Orders (10:00am PST Arizona)
• Free Technical Support For Our Customers
• Out-of-Box Failures Are Replaced Immediately At Our Expense
• Expedited Warranty Replacements
• Visit: BBB Business Review A+ Rating