Smartphone Bluetooth Wireless Headsets
Wireless Headset Options:
The Latest in Plantronics Bluetooth Headsets.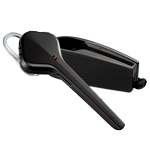 Using a Bluetooth headset or earpiece on your smartphone gives you wireless freedom with crystal clear sound quality. The Voyager Edge provides great talk time, convenient travel case with extra charging power, and an extended microphone for great voice pick-up.
For details, pricing and ordering: Plantronics Voyager Edge
Need More Wireless Choices?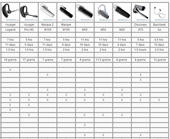 We offer a wide selection of compatible Smartphone Bluetooth headsets, earpieces and microphone designs.
Check out our easy-to-understand side by side comparison grid at Bluetooth Headset Guide.
---
Corded Headset Options:
3 Wearing Choices Included!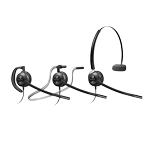 Plantronics has the solution you've been looking for! The EncorePro HW540 headset provides a top-of-the-line commercial grade headset with 3 different wearing styles..all included! With any H-Series headset you also need the Plantronics smartphone cable to connect your phone and headset. With the press of a button on the smartphone cable, your calls are easily answered with the headset.
For details, pricing and ordering: Plantronics HW540 Headset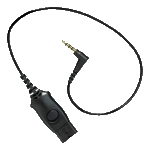 For details, pricing and ordering: Plantronics 38541-02 Cable
Short Info Videos:
We have selected a few informative videos to help you better understand Smartphone headset options:
New from Plantronics
Plantronics HW540
Business Grade Headset
smartphone Corded Headsets
Plantronics 38541-02 Cable
How Do I Order
Smartphone Headsets?
Order now on our fast and secure website or call 1-800-914-7996 today!
Frequently Asked Smartphone Headset Questions
How do I order headsets for my smartphone?
Just give us a quick call at 1-800-914-7996 or order online.
How easy is it to connect a Bluetooth headset to an smartphone?
It will take you 2-3 minutes to be up and talking. You simply put the headset into pairing mode, have your phone search for Bluetooth devices, your headset should appear, choose to connect and your done.
What is Smart Sensor Headset Technology?
Headsets with Smart Sensors only connect to your phone when it's on your ear. You will never again be talking into your phone to realize your headset is the active device sitting in your pocket or purse with your caller yelling "Are you there?".
How is the quality of Bluetooth headsets on an smartphone?
Technology has advanced Bluetooth audio quality to amazing levels. With the latest AudioIQ3, Windsmart and DSP technology built in, your caller won't be able to tell you're on a Bluetooth headset whether you're in the office, the mall or cruising down the highway.
How easy to use is the smartphone corded headset and cable solution?
As simple as plug-n-play. You plug the smartphone cable into the headset and your smartphone. Your smartphone does the rest. It's really that easy. Just start making calls like normal, but enjoy the convenience of hands-free communication.
Is there a 2.5mm to 3.5mm adapter to use standard headsets on an smartphone?
Yes, part number 84372-01 allows you to use a 2.5mm headset plug into an smartphone 3.5mm plug, however, we have had customer issues on occasion with this solution and would only suggest as a last resort.
The Advantages of Smartphone Bluetooth Wireless Headsets
If you want the best for yourself and your business in terms of being able to have the right communication tools, you need to ensure that you are able to get the best that comes with the wireless headsets. Smartphones have become a central part of many peoples lives. Saving battery and being proficient is critical. The research has been completed. Consider yourself educated because you're reading this. Smartphone Bluetooth wireless headsets will allow you to multitask and save battery life all at the same time. Smartphone wireless headset will allow you to be able to have better quality communication as well as a more interactive option. As well, to tell the importance of the headset, many other companies as well as some of the biggest such as Microsoft use them.
When it comes to communication, then you need to have the best for your business. This is to mean that you think you need to be able to have the right kinds of gadgets released each month. You could go through them and be able to enjoy what comes best for you. Most of the time, you need to have the right kind of unified communication through this headset. This will be able to allow you to be able to benefit from the applications that come with these smartphone headsets. With this, you will be able to save the most amount of money while getting the latest bluetooth wireless headset for your iPhone or Android.
You need to have the advantage for you to be able to enjoy the benefits. This is to mean that you will be able to have a link with the computer as well as your tablets such as an iPad, Surface, or Android tablet. With the right kind of bluetooth headset, you can link your headset with the desk phone or voip phone. With this, you will be able to have the right kind of wireless headsets that provides you with some of the best communication capabilities. The design of these smartphone headsets end up making this the state-of-the art way communicate. Another benefit to consider; you will be able to benefit from the right warranty that will earn you a simple replacement especially from an untimely breakdown. You also will be able to benefit from owning one of these headesets in terms of being able to have the correct repairs by the right technicians. On another note, with the quality you get from these Plantronic wireless headsets, you might not need to consider the warranty at all.